Kirstie Jeanette Engel, Associate Pastor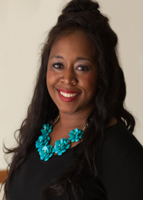 Hello Saint Paul UMC! I am Kirstie Jeanette Engel and I am so honored and elated to serve as your Associate Pastor. To tell you a little bit about myself; I was born in Fort Polk Louisiana and was raised in Brooklyn, NY. At the age of 17 I moved to Winfield, Kansas and graduated from Winfield High School. I received my Bachelors of Science in Mechanical Engineering at Wichita State in the Fall of 2003. I received my Masters of Divinity at Philips Theological Seminary in May 2010. I am a proud mother of Shaya Kamille Garnes and Keera Simone Garnes, step mom of Ella and Ashton Engel and wife of Stephen Robert Engel. I am highly energetic and passionate about people and the mission of making Disciples of Jesus Christ. I wake up every morning with excitement on what God is going to do!
In my spare time I love to exercise, walk, ride my bike, rollerblade and spend time with my girls. As a family we thoroughly enjoy spending our time at the Lincoln Raquet Club swimming, going to the movies, parks, water parks, museums and now eating ice cream at Ivanna Cone.
My hopes for Saint Paul UMC as a church family is that we grow in leaps and bounds and be that church for the people of downtown Lincoln where they know they will be fed both physically and spiritually! I believe that there is tremendous opportunity for our church to reach new people in an organic and deeply meaningful way. It's harvest time and together we can make a difference through Christ Jesus the One who gives us strength! Hallelujah!